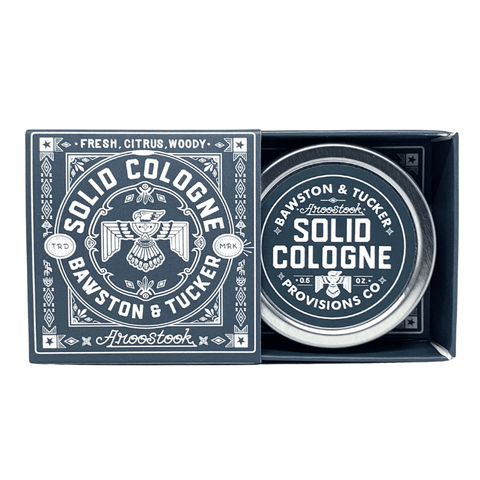 Solid Cologne Aroostoock
You're the wild one that is not ordinarily tame or domesticated. You're the mighty one that is powerful and ready to take on the world. You're the free one that is always up to explore. Aroostook is the solid cologne that is sophisticated, yet unrestrained for the adventurous one.
Scent Profile: Imagine the fresh smells of a winding river with touches of sweet citrus & woody tones of bergamot & patchouli.
Ingredients: 100% Sweet Almond Oil, Organic Beeswax, Pure Shea Butter, and Fragrance (Fragrance Oil Notes:  Bergamot, Neroli, Tangerine, Rosemary, Jasmine, Persimmon, and Patchouli)
Directions: To use this solid cologne, just slide your finger in cologne to warm up the solid. The oils from the fragrance, almond oil, shea butter will release on your finger.  Then, dab to your pulse points such as the neck, wrists & behind the ears. Repeat as needed.
Product weight is 0.5 oz. Travel Friendly & TSA approved. Super concentrated, but subtle cologne. Super versatile and uniquely interacts with your own body chemistry. Shea butter based, which helps not only to nourish your skin but preserves the fragrance and allows it to evolve throughout the day. Each tin can last about 4-6 months. Alcohol, Phthalate, Paraben & Cruelty Free. Handcrafted in small batches in Florence, Alabama.
Image from Bawston and Tucker
---
We Also Recommend
---