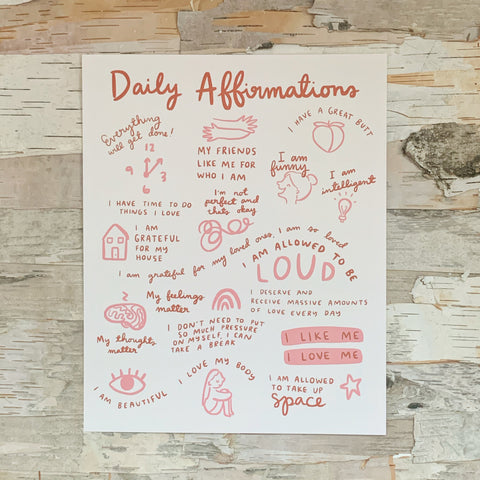 Daily Affirmations Print 8x10
A professional art print of an original illustration. Printed on luxe matte paper. Coloration may slightly vary. Printed in Las Vegas, NV. Packaged with compostable cello sleeve and chipboard. Dimensions: 8" x 10".
Print reads: Daily Affirmations
Everything will get done! My friends like me for who I am. I have a great butt. I am funny. I am intelligent. I have time to do the things I love. I'm not perfect and thats okay. I am grateful for my house. I am grateful for my loved ones, I am so loved. I am allowed to be loud. My feelings matter. I deseve and receive massice amounts of love every day. I don't need to put to mych pressure on myself. I can take a break. I like me I love me. I am beautiful. I love my body. I am allowed to take up space.
---
We Also Recommend
---